Our Vineyards
All of our vineyards are located on Class 1 growing sites for viniferia grapes. Our main vineyard of 63 acres is along the center of the famed "Golden Mile Bench" application to become the first ever Okanagan sub-DVA (Designated Viticultural Area). The sandy loam soils, combined with the precious south-east exposure, make these ideal wine growing conditions. This location is bordered on the west side by a now famous poplar planting and contains 8 different varietals. Cabernet Sauvignon, Merlot and Cabernet Franc, make up the majority of the planting and are complemented by smaller blocks of Viognier, Gewurztraminer, Petit Verdot and Malbec. The crown jewel is an outstanding Syrah block that produces impeccable wine year after year.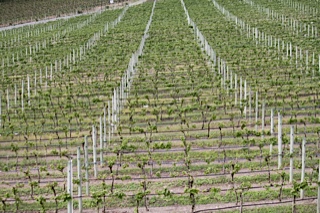 The vineyard directly behind the winery, affectionately known as the "Blue Barn" block, has the mighty Testalinden Creek flowing through the center of it. There are 2 foot bridges for crossing and a small picnic area nestled beside the Merlot.
The winery also operates the Eugenio vineyard of Betty Jentsch's parents on the Black Sage Bench. The unique gravel loam soils with the long warm evenings produce fine vintages of Merlot, Syrah and Cabernet Franc.
The newest location for the vineyards of C.C. Jentsch Cellars is in Summerland on Chris & Betty's home property. Sweeping along Lake Okanagan, this 4 acre vineyard has perfect south-east exposure and the massive body of water provides a thermal buffering that is second to none in spring and fall growing seasons. This Chardonnay block, planted on heavy clay soils, began producing its first vintage in 2014.