November 17, 2013 | Julianna Hayes
Grape Expectations: Wine Notes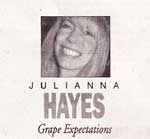 CC Jentsch Cellars 2012 Viognier
A pretty bouquet of peaches, apricots, honeysuckle, vanilla and tropical fruit notes. Fresh and fruit forward with juicy peach, honey, orange peel and mineral flavours.
Cellaring Potential: Drink now
Score: B++
Price: $25
Winery Location: Oliver
Comments
Best essay writing service
@ Jan 29, 2017 at 8:46 PM
Seems you are doing everything in a very systematic way. It is really very good actually. Every word of this blog is so good that I have read this blog of yours twice at one time.So it was a well chosen sentence, and I like it very much.