March 30, 2015 | Recipe | Chris Shaften
Venison Tartar with 3 sisters Cherry Chef Chris Shaften of KRAFTY kitchen + bar, Kelowna, BC.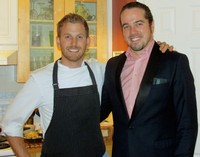 I find the oxidized flavor of this cherry vinegar plays extremely well with game meats, while the cherry itself calls for all the cherry in the CC Jentsch "The Chase" making this a super fun pairing.
Use only the freshest meat for Tartare, you can use almost any cut, but what you are looking for is lean tender meat, which has quite a bit of flavor. Generally, I like the sirloin of most animals for tartare.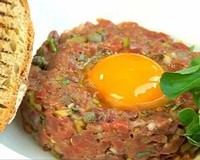 Typically tartar is served with grilled bread, crostini or some other cracker substitute. I prefer just eating it as is, with either a side of French fries, or a good crisp salad. Typically you can find me on my day off eating tartar and frites in my favorite French bistro with a good fruity red wine or champagne and scribbling in my notebook. So serve it with whatever accompaniments you like, there are no rules, if it works in your mouth, then it is good. If you do decide to serve with a salad, dress it with some of the cherry vinegar and your favorite fruity olive oil (about 3 parts oil to 1 part vinegar)
What you will need:
3-6 oz meat per guest 3 oz is a good starter size.
1 tbsp vinaigrette per 3 oz of meat
Maldon or other finishing salt
Assemble
Add chopped meat to bowl big enough to mix it without meat falling out. Using a spoon incorporate the vinaigrette evenly amongst the meat, by pressing into the meat using the back of the spoon. Taste the meat and add more vinaigrette as necessary. What you are looking for is a balance between the natural flavor of the meat and a seasoning level that is high enough to carry through to the end of chewing the meat.
Once the tartar is seasoned to your liking, simply spoon loosely on to your serving plate and either serve it with bread, crostini, crackers or your favorite side dish and enjoy with a glass of CC Jentsch.
Prepare the meat
Check meat over for connective tissue, or excess fat, and trim away. You want just tender lean meat, if you are unsure if something should be left on, CHEW IT. If it is pleasant, keep it. If not, discard it. Once meat is trimmed up, pop in your freezer for about 30 mins to 1 hour to set the flesh quite firm, but not frozen. Remove and chop into 1cm x 1 cm cubes and place in a mixing bowl or reserve in the refrigerator until ready to use.
Classic Tartar Vinaigrette Recipe
¼ cup soy
4 tbsp 3 sisters Cherry vinegar
2 egg yolks
2 tbsp tsp lemon juice
1 tbsp Tabasco
2.5tbsp Worcestershire Sauce
.5 cup Dijon mustard
1 cup oil
½ cup capers, minced
1/4 cup diced shallot
1 tbsp pepper, cracked
Method
Add all ingredients into a jar, put on lid and shake until smooth vinaigrette is formed. Reserve in fridge until needed, this will keep for about a week.
Comments
Commenting has been turned off.