CC Jentsch Cellars in the News

An Event not to miss, April 28th, 6.30 pm at Krafty Kitchen + Bar.
Chef Paul Moran, winner of the "2015 San Pellegrino Young Chef Canada" and the "2013 Hawksworth Young Chef Scholarship" will be representing canada at the world finals on June.27th in Milan, Italy. Moran will be coached by his assigned mentor Chef Susur Lee. The competition pits Moran against 19 others who have won in their own world regions. The judging panel is an all star pick of the worlds very best chefs including three Michelin star chef Yannick Aleno from Paris. Paul worked as a sous chef in the French Capital for two years and "knows what the judges are looking for".Moran will be hosting a culinary and wine events this spring in collaboration with chef Chris Shafton at Krafty Kitchen and Bar in Kelowna. Executive Chef Chris Shaften and Moran will offer a five course, mouth watering menu, paired with local wines from C.C. Jentsch Cellars. This is also the only time Moran will be offering his winning dish to the Canadian public!!! This event will be a sit down dinner at $95 per person. The event takes place at KRAFTY Kitchen + Bar on April 28th at 6.30 Please call Krafty Kitchen for reservations at 250 868 7228.
BIO for Paul Moran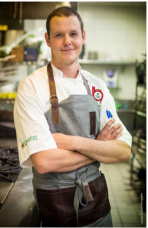 Chef Paul Moran
Born and raised in western Canada, Paul Moran is passionate about ingredients, as well as the link between his surroundings and cooking. Chef Moran is the recipient of more than 11 medals in local and international culinary competitions, including the inaugural Hawksworth Young Chef Scholarship. He has worldwide culinary experience from the Middle East, Michelin restaurants throughout Europe, and, of course, Canada. Chef Moran is currently the executive chef for The Outpost, an exclusive fishing lodge on the western edge of Haida Gwaii. In the winter, he is the executive chef of CMH K2, a heli-skiing destination in Nakusp, BC
.

Chef Chris Shafton
Top Chef Canada contestant Chef Chris Shaften is Kelowna's most recent transplant from Alberta to join the valley's growing chef class. Chris is also chef/owner fo KRAFT Kitchen + Bar as well as a Taste First Private.


Farming is a hard business at the best of times. At others, it's downright frustrating! A whole summer of hard work can be ruined by too much fruit on the market, pests, or weather problems. The year 1998 saw global heat records, resulting in abundant crops and some of the best fruit grown in years throughout the Okanagan valley.
Prior to converting their farm to grapes Chris and Betty Jentsch were tending almost 100 acres of cherries. Cherries love heat and sunshine, however, during that year's harvest a significant hail storm hit the orchard damaging a large part of the crop. In spite of the damage the fruit was still some of best ever produced but would not satisfy a market that demands perfection. What was one to do?
Chris being resourceful, inventive, and determined, suggested that maybe the solution lay in making cherry vinegar and naming it "The Three Sisters" in honor of their daughters. Having no alternative to offer, Betty let Chris go ahead on the assurance that he would commit to selling it the next year. Well as fate would have it, the following year things were rather busy around the farm and the vinegar would have to wait for another year, then another, and another. To make a long story short, the vinegar sat maturing for over 17 years! Needless to say, all of this time has worked magic and created a one of a kind, succulent, dark, rich, and fruity liquid that is as unique as the circumstances that led to its creation
First impressions are reminiscent of a balsamic vinegar (without the sweetness), a strong fruity aroma, well-balanced acidity and an explosion of flavor that is perfect for marinades, salad dressings, or as a dip. Chef Chris Shafton from KRAFTY kitchen + bar in Kelowna was so impressed that "he puts it in almost everything" on his menu. Who is Chris Shafton you ask? Chris is one of the top young chef in Canada and now make his home in Kelowna, creating amazing flavors at his new restaurant in Kelowna. Chris was a top 3 finisher in Top Chef Canada 2012, he is an amazingly energetic, charismatic and talented chef. I have had the pleasure of sampling his famous Venison Tartare with "Threes Sister's Vinegar" and was so good that I had to ask him to share his recipe with you our customers. I hope you enjoy it as much as I did.
Philippe Daigle
Terroir Distribution